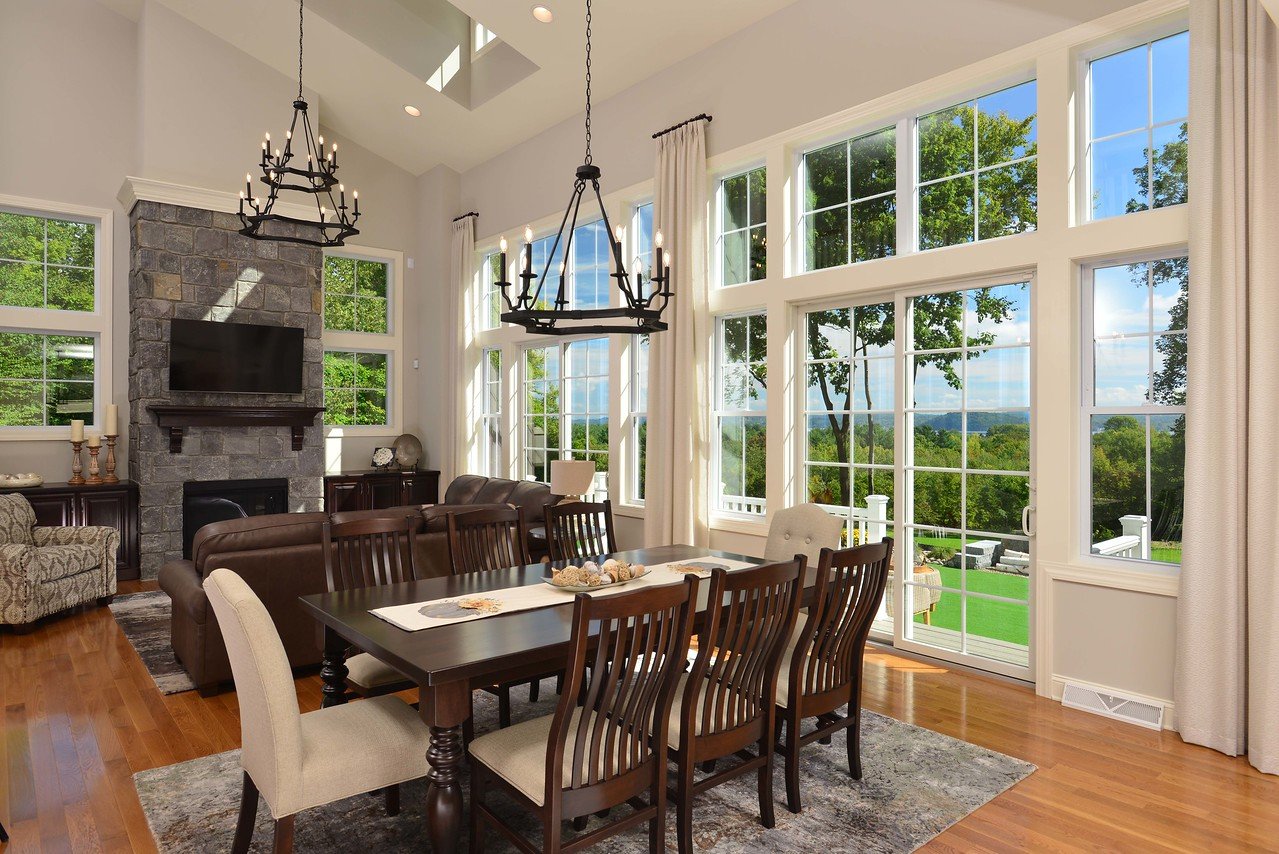 Despite differing tastes and needs in housing, millennial home buyers and 55+ home buyers seem to have one thing in common—a desire to simplify their lives by downsizing their home. In years past, homes were traditionally designed with lots of different rooms and it was thought that the more rooms a home had, the more prestigious it was. Separate kitchen, dining room, formal living room, and family room were the norm. Gradually, home buyers young and old began to realize that maybe there was a way to reconfigure usable living space into a smaller, more functional footprint that would actually feel bigger--the open concept floor plan.

This blog post is part of our "Advantages of a one-story, ranch style home" blog series.

The trend towards a smaller home is rooted in a desire to declutter and to reduce one's cost of living with a smaller living space. Today's active empty nester doesn't want a huge house with rooms they never use. Many find themselves spending less time at home now that they have the time to travel, to visit children and grandchildren, and to indulge in hobbies that they never quite had enough time for when they were working, so a smaller, modern home plan makes a lot of sense. The younger home buyer doesn't feel the need for the large home that was once their parents' dream. Amassing lots of useless stuff is no longer cool. Ask a downsizing parent trying to pass family heirlooms on to the next generation. Increasingly, their kids have no place to put them and they don't want them. Millennials love technology and fortunately, technology gets smaller with each passing year. For all age groups, the trick is to downsize intelligently and without sacrificing design in order to satisfy the desire to live comfortably. So, what is the not-so-tricky solution?

THE OPEN CONCEPT FLOOR PLAN is becoming increasingly more popular among modern home buyers. Blending multiple spaces such as the kitchen, dining room, and living room opens up the home and tricks the eye into thinking that the space is larger than it actually is. There are many benefits to choosing an open concept floor plan. What makes them so popular and how can you take advantage of those benefits?

An open floor plan gives the impression of more square footage by eliminating walls and opening up an otherwise "cut up" plan. Take that a step further with soaring ceilings and taller doors that can reinforce that feeling of spaciousness. Compare a home with 8' ceilings to one with 10' ceilings and 8' doors and you'll see an immediate difference even though they have the exact same square footage. This idea works for both two-story homes and ranch style homes with vaulted ceilings. The folks at Sherwin-Williams of course love to talk paint: "The color you paint the walls can increase the psychological volume of space and can also enhance it with a feeling of warmth and serenity." Get creative with furniture placement to create very inviting gathering areas. Here are some great tips that will wow your visitors: 15 Ways to Arrange Furniture in an Open Floor Plan
Fewer walls separating rooms create the perfect opportunity to take advantage of natural sunlight. Natural light and well-ventilated spaces also help to lower your utility bills. Low-e glass, argon filled windows are now widely available to make sure your home is energy efficient. Larger windows in, let's say your Great Room, can also brighten up adjoining rooms with the glow of natural light.
A seamless transition from indoors to outdoors can be very visually appealing. Famed architect Frank Lloyd Wright's ideas on merging indoor and outdoor space are reflected in the open floor plan. According to Margo Stipe, Director and Curator of Collections at the Frank Lloyd Wright Foundation "Wright is relevant because he never gave up on the timeless. He believed beauty, the arts, and communion with nature were vital to the well-being of people. By reuniting the interior of the human shelter with the natural environment outside, new experiences and patterns are created, the human spirit is awakened, and everyday life is enriched." Look for plans with lots of glass like those with floor-to-ceiling windows. Glass-paned doors leading to the back yard create a connection between indoor and outdoor spaces.
An open floor plan also makes socializing easier and much more enjoyable. When you have friends over, chances are that everyone congregates in the kitchen. The kitchen is after all, the heart of the home. If you love to cook, you can do so while your guests are there, perhaps even involving them in the preparation. If the kitchen is open to the rest of the house, no one is isolated during prep time. Furniture arrangement can be more flexible. For instance, you are no longer limited to placing your couch on a long wall. Use anchor pieces such as a sectional sofa to create distinct spaces within the room. Here's a fun way to help plan your furniture layout: How to create a floor plan and furniture layout
Whether it's a large family gathering around the holidays or just a typical weeknight at home, the open concept floor plan creates family togetherness by joining your most used common areas. Your space can now accommodate everyone instead of separating some in adjoining rooms. An added benefit is the ability to keep an eye on young children (or grandchildren) watching TV while you are in the kitchen. Family members can reconnect after a hectic day by sharing the same space, even if they are all participating in different activities.


THE BEST OPEN FLOOR PLANS

At Malta Development we have many open concept floor plans, including Ranch style, First Floor Master Suite, and 2-story home plans; as well as Townhomes, both Ranch style or with First Floor Master Suites. All of our newly built homes come with the "Everything's Standard" standard features package, offering considerably more amenities than any other builder in the area, so they are a real value. They are also super energy efficient which will save you a substantial amount of money on monthly utility bills. Several of our communities offer an exterior maintenance plan that puts an end to yard work, lawn mowing, and snow removal. Have a look at our plans:

One-Story and Two-Story Plans from our Carriage Collection and Modern Classics Collection

Luxury Homes with views of Saratoga Lake from our Pinnacle Collection

A Unique Concept in Townhome Living from out Townhome Collection

Call Beth Smith Realty today at (518) 928-3057 to discuss your home building options and to tour one of our 5 model homes!