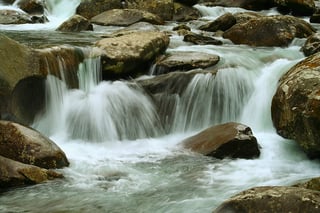 The naturally carbonated springs in the Saratoga Springs area have been a source of attraction for the community since as long as anyone can remember. It is almost common knowledge to any Saratoga Springs dweller that the waters are charged with carbon dioxide gas and mixed with important minerals.
This blog post is part of our "Saratoga County NY Real Estate" blog series.
If you are thinking of taking in some of Saratoga Springs' famous waters, here are a couple of recommendations.
Situated in the center of Saratoga Springs, Congress Park was the former site of the Canfield Casino. The casino is now a local museum, but the park also contains several mineral water springs, including Congress Spring, Columbian Spring, Deer Park Spring, and the famous Hathorn. The springs of Congress Park are known for their health benefits as well as their beautiful surroundings.
Located conveniently across Maple Avenue,High Rock Springs has an historic past. Reportedly, Indigenous Americans used High Rock Springs as early as 1300. Its first colonial visitor was Sir William Johnson in 1771. Johnson was wounded at the Battle of Lake George and was carried to the spring by a Mohawk tribe member. After Johnson's health improved and the word spread, the springs began to grow in popularity.
The springs in Saratoga Spa State Park are among the only active spouting geysers east of the Mississippi River. These two springs, the Island Spouter and Orenda Spring, send their waters 10-15 feet into the air. The famous fresh water springs of Saratoga Springs are historic and have numerous health benefits. They are a must visit attraction for any resident or visitor to the area.
Saratoga Spa State Park is not only known for its springs, but also for is public pools and renowned performing art facilities.
The waters of Saratoga Springs have been a vital part of this region for a very long time. We hope this gives you some insight into this famous Saratoga attraction.