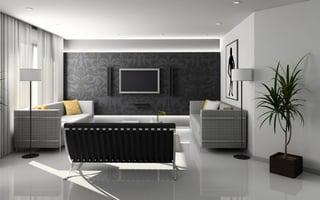 Home decorating trends come and go just like seasons. While some decor trends experience a surge in popularity, others are relegated to the storage room. These spring-inspired trends are making a big splash amongst interior home designers.

Black and White Decor: Once upon a time, vibrant chevron patterns were all the rage. Lately, however, the colorful v-shaped craze has been replaced by minimalist, black and white decor. Think linen white walls for a bright bedroom, black faux suede chairs, and an expansive white area shag rug. For you kitchen lovers, opt for a black glazed tiled backsplash paired with white cabinets.

Matte Finishes: Predicting style and design trends is nearly impossible. What was once a design staple like a metallic finish (copper, steel, etc) is now long forgotten. In its place, matte finishes like oxidized metals, glazes, and chalk-finish hues dominate. The irony is that both matte and metallic finishes complement each other. So go ahead and bring out those metallic accents from storage.

Macrame and Crochet Textiles: Trends also come back in cycles. The 70s trend of macrame vests and crochet textiles is making a big comeback into home decor this spring. Everything from macrame plant hangers to crochet hammocks are being produced by innovative fiber artists. If you want to dabble in the boho-chick aesthetic, this is surely the way to go.

Marble Accents: Nothing says luxury more than marble accents. In this case, however, less is more. Small marble flourishes like coasters, serving plates, cutting boards, and candleholders are the way to go. They not only bring a touch of sophistication in small doses, but they also add warmth with their natural and organic beauty.

Grey Hardwood Floors: Although grey hardwood floors conjure an image of a rustic cabin hideaway, paired with elegant and sleek furnishing, it drastically creates a contemporary look. Distressed and stained hardwood planks come in a variety of different options from weathered oak to exotic bamboo.

Global Folk Textiles: While a luxurious home will feature the latest and greatest in smart home technology, high-end fabrics are the true sign of elegance and flawless taste. For example, the eclectic ikat fabric is made using an Indonesian decorative technique similar to tie-dyeing. This tribal-inspired print pairs well with pretty much anything: stripes, solids, etc.

Farmhouse Kitchens: Butcher-block countertops, neutral palettes, copper accents, and natural lighting are the essentials to a farmhouse kitchen. Whether you live in a coastal home or take residence in a small cabin, a rustic kitchen will make you feel more at home.

Get on the bandwagon before these decorating trends become obsolete. Although incorporating every single one of these trends in a single room might be excessive, choosing a few of these can add style and luxury for the spring.