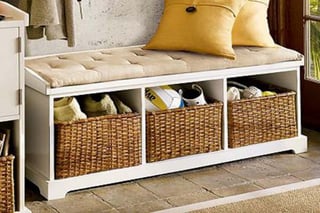 It's the start of a new year which means it's time to make way for new, productive habits. Many people compile a laundry list of resolutions that challenge their willpower, including losing weight, kicking a smoking habit, and more. But did you know there's an easier way to upgrade your life?

Organizing your home helps to remove distractions and live a more efficient life. This year, make a resolution to streamline your household chores. It not only makes your spring cleaning easier but also makes you feel more accomplished and productive. Check out how these small changes can make you feel like you've revamped your life.

Unclutter your space
If you've lived in your home for longer than a year, clutter is inevitable. Everyone has that drawer of things that don't belong anywhere. Over time, unless kept in check, that drawer turns into a desk or even a closet. Because accumulation is gradual, you may not even realize how much that space is affecting your environment.

In reality, cleaning up those visual distractions has been proven to increase focus. The trick to getting rid of cluttered space is to start small. Dedicate 10 minutes to organizing a shelf, counter, or closet. Remove everything from your space and sift through it one item at a time, placing them in a "keep" pile, "donate" pile, or the "maybe" box. If you haven't used anything from the maybe box within six months, donate it.
Make Your Bed
With all the hustle and bustle of work and family, making your bed is just another thing on your to-do list. Two minutes is all you need to reap positive benefits. Not only will it make your bedroom look much tidier, but starting your day with this small ritual sets the tone for a productive and organized day. In addition, a National Sleep Foundation poll suggests that people who make their beds every day are 20 percent more likely to get a better night's rest.

Use Multiple Trash Can Liners
While having trash bins in multiple rooms makes waste disposal more convenient, emptying them is another story. Next time you clean one out, try lining it with a few (4-5) bags. Why? You save time. You eliminate the unnecessary journey to your kitchen (or wherever you store them) in search of a replacement. The next time you head out and notice that the waste basket is piling up, all you have to do is grab the top bag. It also means that your bin has no downtime. How many times have you removed the bag to take the garbage out and returned to find that someone's thrown something in the unlined bin? Never again.

Use a Silicone Oven Liner
Do you ever get sick and tired of scrubbing away the pesky grease stains at the bottom of your oven? Everyone does. If you use your oven frequently, it might be time to look into a dishwasher-safe silicone oven liner. Make sure it is at least larger than your oven; you can always trim to the appropriate size. Say goodbye to hard-to-remove burnt and baked on foods. You just shaved an hour off your kitchen clean-up time.

Let Your Cleaning Products do the Heavy Lifting
When you think of deep cleaning, you probably imagine scrubbing away at a grimy kitchen. In reality, your cleaning products are fully capable of lifting grease with ease; all they need is time. Start by pre-treating your surfaces with a spray. Most of the time, a multi-purpose cleaner will do, but be aware that special materials (especially porous surfaces, like marble) may require another treatment. Then, walk away. After about 10 minutes, return to wipe off the surface. It's the perfect cleaning hack unless you use your kitchen scrubbing time as a substitute for an arm workout.

Incorporate these organizational and cleaning tips into your everyday routine and you'll find yourself spending less time doing chores. After a few weeks, these habits will become second nature. You'll wonder how you ever lived without them.