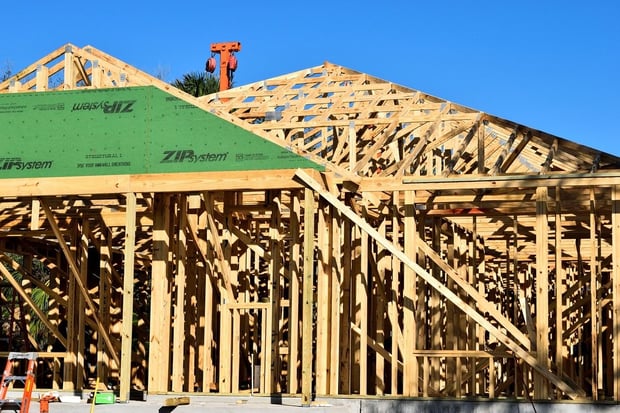 With inventory of existing homes at an all-time low, new construction is becoming more and more attractive.
This blog post is part of our "Advantages of a one-story, ranch style home" blog series.
Why Build a New Home?
As you start to look into what is available, the benefits of a new home vs. a pre-owned home will become apparent pretty quickly. State-of-art building practices and energy efficient components make a new home superior to an older home in terms of a healthier living environment and lower utility bills. Depending on the age of the home, the savings can be astounding.

Lifestyles have changed considerably for all age groups and new homes today reflect that change with innovative design. Newly built homes offer more efficient use of space and the flexibility to customize existing floor plans to suit your individual needs. Why buy an older home with rooms that you will never use, like a formal Living Room? Think how much better it would be to have more space in the areas you spend most of your time in.

Consider the financial aspect, as well. We expect to have our homes increase in value and a newly built home will generally have a higher appraised value than an existing home. A new home can be virtually maintenance free for years, so you will save money by avoiding costly repairs. Advancements in building practices, technology, and energy efficiencies all combine to increase the value of newly built homes.

Here are some good tips from Homes by Malta Development that you'll want to look at as you begin your search.
What To Look For In A Home Builder
Once you have made the decision to build a new home you'll want to make sure that you have all of your ducks in a row. Your home is most likely one of your biggest investments, so you will want to make sure that you are making a good decision. You should feel comfortable with the entire process and with asking questions. Here are some questions that you should consider asking as you search for the right home builder:
How long Have you been in business?
Can you provide testimonials from recent home buyers?
How do your standard features compare to other home builders?
What major energy-saving features are included in the homes that you build?
What kind of warranty do you provide?
How long will the new home take to build?
How much of a deposit will I have to come up with to start the process?
Here are some more handy tips from Homes by Malta Development to help in this key decision.
Top 7 Trends For New Home Builders
Green—It's More Than Just a Color

We all want to do our part to be kind to the environment by limiting our carbon footprint. Look for a home builder who uses green building practices and materials such as low VOC (Volatile Organic Compounds), low E windows, low flow toilets, and spray foam insulation, which make for a healthier living environment and result in substantial savings in monthly utility bills.

Getting Smarter With Technology

Technology has come a long way in recent years and most older homes aren't equipped to take advantage of the latest in security, entertainment, and communication advances that didn't even exist a few years ago. New homes now offer such features as wi-fi programmable thermostats, security systems with video intercom, and audio systems to enjoy your favorite music.

No Stairs, Please

According to the National Association of Home Builders which tracks consumer housing preference, the demand for one-story, ranch-style homes becomes greater with each passing year. Currently, two-thirds of home buyers are looking for single-story, ranch style plans. As the population continues to age, an estimated 10,000 Baby Boomers enter retirement each day. This preference for ranch style homes with no stairs to climb looks set to continue for the foreseeable future.

Bigger Isn't Always Better.

As the Baby Boomers enter retirement and are looking to downsize from the big homes that they raised their families in, the trend is for smaller, more functional homes that make sense to their current needs. Builders have gotten creative with floor plans and the emphasis is more on "rightsizing" than simply downsizing into less square footage. If you are able to find a home whose layout and location are right for you, you may be surprised to find that size is no longer of primary importance. Look for that unique home that has been designed for maximum functionality and the new home builder that is offering clever design items like built-in cabinetry that takes the place of big furniture and built-in desk areas that alleviate the need for an entire room that serves as an office.

Taller Ceilings For Instant Grandeur.

Today's home builder is faced with a tall order when it comes to making smaller homes feel grand. To distinguish themselves from the competition, some home builders are going with taller ceilings and taller doors. A ranch style home with soaring 10' ceilings and 8' doors is going to feel quite a bit more spacious than a regular 8' ceiling. Ranch plans have the added benefit of being able to incorporate vaulted and cathedral ceilings since there is nothing above it.

An End To Yard Work

Whether you are a young professional building your career, parents raising a young family, or a retiree enjoying your golden years, who wants to spend their precious leisure time cutting grass and wrestling with a snow blower? Many new home communities are planned to be either maintenance-free or to offer an optional exterior maintenance package. These are often very reasonable in price and can really free you up to have time for the things that are really important to you.

Going Bold With Color

. After several years of rather sedate color trends we are now seeing brighter and bolder colors. Each year the Pantone Color Institute announces it's Color of the Year. In 2018, that color is PANTONE 18-3838 Ultra Violet " The color is often associated with mindfulness practices, which offer a higher ground to those seeking refuge from today's over-stimulated " Terrified to paint with such a color? Look for ways to accessorize with bold colors, like throws or accent pillows. White cabinetry has also made a major comeback which makes for a very bold contrast with such strong colors as Ultra Violet. Your home is your own personal refuge so, as always, go with what makes you feel good.
At Homes by Malta Development we pride ourselves on being trendsetters. We strive to anticipate what home buyers are looking for and to be one step ahead of other builders.
Visit our website for more information: https://www.maltadevelopment.com