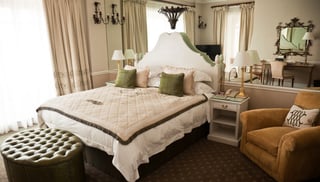 Any room can transform into a luxurious and posh living space with the appropriate upgrades. One of the most important things you could do immediately to up the luxurious ante is to carefully organize your room. Once everything is in its place you can begin adding these intricate details that turn an "ordinary" bedroom into a sumptuous chamber.
Throw Pillows: Breathe new life into your room with a set of handcrafted, luxurious, and plush throw pillows. A set of oversized hand-knit cushions gives any bed a comfortable and elegant feel. Choose from silk, velvet, or cashmere luxe pillows which never go out of a style. Just make sure that your pillows match your bedroom decor. Throw pillow upgrades can easily be reversed if you don't like the look.

Light Fixture: Add an elegant chandelier as your room's primary ambient light source. These dramatic, yet functional statement pieces become an eye-catching focal point. Place it center stage to provide an even illumination across the room. It adds a sophisticated sparkle and finishing touch.

Nightstand: If you own a nightstand, there's a high chance that you use it to hold your most essential items. Sometimes, though, a nightstand can become a catchall for miscellaneous storage. Instead, clear the top, store some items in the drawers and place a sleek, marble accessory tray on top as a display for decoration.

Statement Piece: There is such a thing as having too many statement pieces. If all of your statement pieces have a strong personality, they'll clash with one another turning your room into an eye sore. A good rule of thumb is to make a main piece of furniture, like a bed, the statement piece.

Floors: Luxury is synonymous with cleanliness. A floor that is obscured by clothes, paperwork, books, and electronic cords is the antithesis of elegance. Although this idea isn't technically an upgrade, a clutter-free floor can jumpstart your creative design streak. Add luxury area rugs for extra warmth and richness.

Hardware: Furniture hardware is often an overlooked detail. Replace your lackluster hardware with something more visually stunning. Choose from high-end copper, gemstone, crystal and more options. Decorative hardware featuring a distinctive finish and a classical design is a simple upgrade that can upgrade any piece of furniture.

Vanity: While a vanity is one of the most used furnitures in your room, having it cluttered detracts from the overall aesthetics. To organize your vanity, purchase a set of stackable makeup organizers so that the top feels less crowded. A modular organizer allows you to add or remove boxes, trays, and drawers to stylishly accommodate your makeup.

Plants: Not only do houseplants have air cleansing properties, but thy also instantly brighten and enhance the look of any living space. Greenery can come in the form of the exotic-looking Boston Fern or Kentia Palm. Looking to make a statement? Give your bedroom a luxurious facelift with the addition of the resilient and long-lasting ZZ plant or Fiddle Leaf Fig.

While everyone has a different concept of luxury, these bedroom upgrades are tried and true ways to give your bedroom its much needed boost. Put the finishing touches with your selection of original artwork.