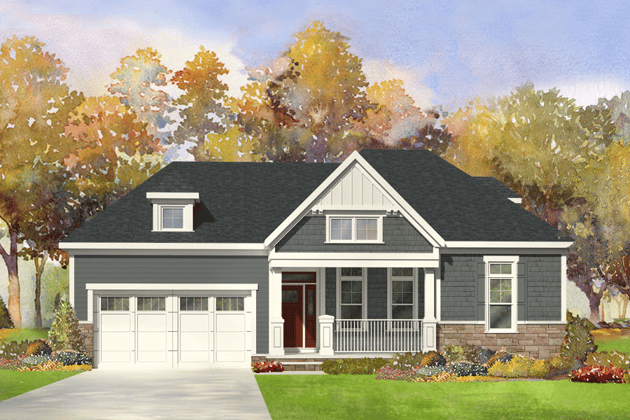 As the population continues to age and more and more empty nesters are reaching retirement age, the demand for housing that meets their needs increases with each passing year. Now that their children are no longer living at home, most empty nesters can do with fewer bedrooms and less overall space. The trend is towards scaled down, smaller home plans with more amenities. Today's 55+ is very active and highly social and home plans that appeal to them are designed to provide space for entertaining friends and family. Guest wings with private baths located away from the Master Suite allow privacy for everyone.
This blog post is part of our "Advantages of a one-story, ranch style home" blog series.
According to the National Association of Home Builders, a whopping 75% of this age group would prefer a single-story ranch style plan. In addition, the vast majority want to live in the suburbs, often moving to a new area that is closer to their children and grandchildren. No stairs to climb allows seniors to stay in their home longer and to "age in place" safely and independently.
Should Empty Nesters Downsize?
Are there rooms in your home that you rarely set foot in?
Do you have bedrooms that have remained empty since your kids left home?
Are you paying to heat and cool unused space in that big old house?
Is your leisure time taken up with yard work and cleaning a big home?
If you have answered yes to any of these questions, you may want to consider whether downsizing is right for you.
Scores of empty nesters are embracing the concept of downsizing and discovering the joys of living in a smaller home. Chances are that you have so much storage space in your big home that you can't even remember what you have, let alone why you are keeping it. Pare down your unused, stored items and you'll find that you don't really need all those rooms just to store these useless items. Look for home plans that offer adequate storage and only keep those things that you actually use.
Another thing this age group has in common is not wanting to spend their new-found freedom caring for and maintaining a big home. The trick is to downsize intelligently in order to live comfortably. Reconfigure your space into fewer rooms that you will actually use and put the majority of the square footage into the rooms you use the most. This is often referred to as "rightsizing." You may be surprised to find that with the right floorplan, size becomes secondary. New home plans geared towards empty nesters are designed to take full advantage of every bit of space without sacrificing style. Here you can find some tips to make your downsizing successful.
Tips for Adjusting to Your New Empty Nester Home
Like most things it makes sense to have a plan in place before you decide to move. It will be much easier and much less stressful to start weeding out the things you longer need, months before moving day. What to keep and what to get rid of can be tricky if the moving van is on the way and you are still packing. The temptation may be to pack it all up, take it with you, and decide what to get rid of later. Of course, you also don't want to get rid of everything just for the sake of scaling down. Choose a home with adequate storage and then consider getting rid of duplicate items and items that you no longer use. After that, either give the rest away, donate it to a worthy charity, or turn your unwanted treasures into cash on Craig's List or at a well-planned yard sale.

Most folks who say they were terrified to pare down report later that they should have done it years ago. A simpler life with fewer belongings to care for can be very freeing. One good rule of thumb: Look around and imagine that everything is gone. Which items would you repurchase? If something doesn't make the cut, you can probably do without it.
Big items like furniture may require some extra thought. Get some graph paper and start sketching in your existing pieces to see how they fit the room. If it looks like you are jamming things in left and right, determine what you can comfortably live without. Even better, how does this idea sound? New home, new furniture.
When it comes to packing, a little advanced planning can help you adjust more quickly in your new space. Take the time to clearly label each box with it's contents and the room that it is destined for. There's no need to go over the top with color coordinated labels and Excel spreadsheets if that's not how you roll. A black Magic Marker is all you will need. Boxes labeled "Basement" may benefit from further scrutiny. Do they contain things that you truly want to keep or are you just undecided? Most likely the "undecideds" will still be packed up and sitting in the basement years from now.
Take it one room at a time. Start unpacking the boxes whose contents you have an immediate need for and then work from there. While the mountain of boxes may make the task seem insurmountable, know that unpacking always goes faster than packing. Make sure to have a plan for how you are going to dispose of packing materials. You may want to call ahead to your trash removal service to have trash and recycle containers delivered the day of your move.
Have confidence that you will adjust to your new space. Once you are in your new home things will begin to feel much more manageable. With less home to maintain you will be free to spend your time and energy doing what you truly want to do.
Best Empty Nester Home Plans
The best floor plans for the empty nester is clearly either all on one level, or with the Master Suite on the first floor. Ideally, they should be smaller, easier to maintain homes that alleviate the burden of home repair and maintenance. Homes by Malta Development offers a great portfolio of these plans including single family detached home plans, as well as townhome plans that are also super energy efficient for lower monthly utility bills. These home plans offer more amenities and standard features than other area builders. In addition, many are located in communities that offer an exterior maintenance package that takes care of yard work, lawn care, and snow removal. Check out these great plans:
Call Beth Smith Realty today at (518) 928-3057 to see how Homes by Malta Development can help you find the perfect home!