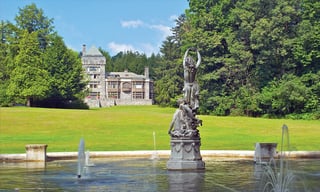 Located on a 400-acre estate not far from the city of Saratoga Springs is the renowned Yaddo Artists' Community. Founded in 1926 by the estate of Spencer and Katrina Trask, visiting artists that have spent time at the community have gone on to win 69 Pulitzer Prizes, 29 MacArthur Fellowships, 68 National Book Awards, 41 National Book Critics Circle Awards, 108 Rome Prizes, 52 Whiting Writers' Awards, and one Nobel Prize. Notable artists who have completed residencies at Yaddo include, Sylvia Plath, James Baldwin, Truman Capote, and John Cheever, among others.
The land that is home to Yaddo is believed to be a source of mystic creative power. Before the Trask family built their home on the property, a farm and tavern occupied the space. The property, owned by Revolutionary War veteran Jacobus Barhyte, was a popular haunting ground for writers in the 1840's. Among these visitors was the infamous Edgar Allen Poe, who supposedly wrote some of "The Raven" while visiting the tavern.
It wasn't until Spencer and Katrina Trask bought the property in 1881, that it was given the name Yaddo, at their daughter's suggestion. For the Trasks, the estate served as an ideal location for entertaining and hosting an eclectic group of artists, writers, and musicians. The family saw the property not as just a simple getaway from the hectic life of the city, but as a place to heal emotionally and spiritually.
Upon the deaths of Spencer and Katrina Trask, in 1909 and 1922 respectively, the estate transferred to family friend George Foster Peabody, who turned it into an artist's community following the wishes of the Trask family. Since then, approximately 6,000 artists of all types have stayed in Yaddo's famous halls.
Applicants interested in Yaddo's historic residency program have to pass a rigorous selection process to become a member of their prestigious participants. Though the original mansion on the groups is reserved for Yaddo's resident artists, visitors can tour and enjoy the lovely garden on the property.
As did the Trask Family, residents of Malta and Saratoga Springs find the gardens and the Yaddo Artists' Community a restorative place that is good for the body, mind, and spirit.