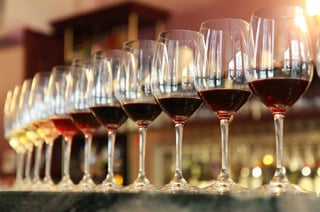 One of the newest trends in wine making is centered on small local vineyards that are often right in your backyard. These hyperlocal vineyards are creating high quality wines that are often parallel in quality and taste to the larger more famous wine producing regions, like Napa Valley in northern California. Saratoga County is known to be one such area of the nation containing a few very high quality hyperlocal vineyards. Here are three located nearby.
A family owned business; the Adirondack Winery is a purveyor of local handcrafted wine that will satisfy every palate. Their tasting room is centered in downtown Lake George, New York and offers a wide variety of wines for sale. The winery has several award-winning wines, including their unique Strawsling, which won a gold medal at the 2013 Taster's Guild. This light and refreshing wine is a traditional Riesling infused with strawberries. Their Pinot Grigio also won a gold medal at the 2011 Finger Lakes International Wine Competition. All of the wine available at the Adirondack Winery can be shipped nationwide.
The Saratoga Winery is the cultivated dream of Rich and Tara Nimmo. It was their vision to combine their passion of wine with everything they love about Saratoga County and the Adirondack Mountains. Less than 4 miles away from downtown Saratoga Springs, Saratoga Winery offers a diverse selection of wines all made from grapes locally grown in New York State. Their signature series of wine are Melomel Reds, which are wines made of a combination of grapes and honey, and fermented in used Kentucky bourbon barrels.
Altamont Vineyard & Winery is situated at the intersection of the Mohawk and Hudson Valleys in New York State. The vineyard and winery is notable for being situated in a climate that is very similar to the famous wine regions of Northern France and Germany. Their unique location allows them to grow grapes and create wine that participates within a distinct European tradition. Altamont Vineyard & Winery offers hand-produced wines in smaller vintages. Their flagship wine, a 2008 Leon Millot Reserve, is a red wine that is reminiscent of a Chianti and pairs well with steak and aged cheddar cheeses. Representing a mixture of both classic European styles with American winemaking techniques, Altamont's wines are second to none.