Let's get past a meatloaf in the shape of a football, hot wings, and nachos and get to a more memorable level for this year's party.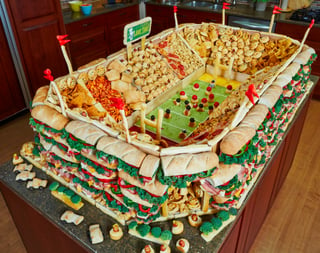 Two teams will be facing off on February 5th for Super Bowl LI at the NRG Stadium in Houston, Texas. This year we will watch the New England Patriots battle the Atlanta Falcons for Super Bowl gold.
The casual atmosphere of a Super Bowl party is just right for a few games and simple, easy to prepare and enjoy food and drinks. Here's how you can become the day's MVP.
As guests arrive and before the game begins, set up a pool to pick the quarter, half and final scores, for small prizes. Guests choose possibilities from a grid you prepare ahead of time. Larger prizes can be awarded to the actual final score winner, with closest to the score awards possible, too. Confirmed as well as novice fans will all enjoy a pool. Make the prizes simple: some chocolate chip cookies, a large bottle of an unusual beer, tickets to a movie. Your guests may choose to opt for a pool involving cash – that's always fun, too.
If your crowd is knowledgeable about game strategy and the teams, you could set up a Prop Pool, too, with questions that are posed before the game -- the winner is the person or group who has the most correct answers. This site has a great list of possible questions.
Creative decorations will add to the fun. Here are some ideas: cut drink coasters out of astroturf which you should be able to buy by the foot at your local hardware store; dress up your table with paper on which you can draw a field with yard lines marked and goal posts at either end. Adding the teams' logos on the sidelines is a nice touch; once the final team matchup is known, use team colors for your drink cups, napkins and banners. Each person can choose their favorite team for the day; foam fingers and team flags for cheering will light up the room with laughter.
Have plenty of beer and soda on hand and prepare batches of cocktails that can be self-served, like bloody Marys or sangria. A big pot of something tasty such as chili, along with cornbread and corn chips is an easy way to satisfy a crowd and allows you to enjoy yourself, too. No one wants to be stuck in the kitchen when the action on the field heats up. An alternate that everyone will love is pizza. Visit a warehouse store for huge pizzas which you can personalize with your own special toppings. Pop them in the oven in time to serve at half time and you will have yourself a winner! A few munchies like popcorn, chips and dip, cheeses and crackers, and a mixed nut bowl will be appreciated during the first half.
Dessert should be simple as well and what could be easier than asking your guests to contribute their favorites for the party. They will be happy to do so.
Do you have some ideas for a Super Bowl Party you'd like to share? You can enter them below. Your neighbors will thank you.