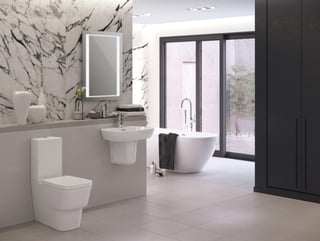 Sometimes, we just have to treat ourselves to small indulgences. When your working hours are getting longer and the kids are getting louder, sometimes you need a moment to relax and pamper yourself. Instead of driving and spending money to go to the luxury spa, why not have the luxury come to you? Transform your purely functional bathroom into a decked out oasis with a few lavish upgrades.

Shower: Revamp your humdrum morning showers into a memorable spa experience. Breakthroughs in shower head technology enable you to set the temperature before you even get in, use less water, integrate speakers, and even modify spray intensity and delivery. Do multiple people use the same shower? Modern shower systems can hold multiple presets so everyone can have a personalized experience.

Tiles: You may be hesitant to install tile because you don't like its flat and square aesthetic, but with water-jet-cut tile, that's no longer an issue. Water-jet-cut mosaics empower you to carve intricate shapes and designs out of a variety of materials including porcelain, stone, and glass.

Lighting: Make the most of your first-class sanctuary with moody, ambient lighting. Bar lights, especially, offer balanced illumination over your entire bathroom. Shadowless lighting is the perfect environment for flawless makeup application or shaving.

Counters: Going green is the newest trend in luxury counters. Choose from a wide selection of eco-friendly materials like quartz, concrete, paper composite and more. You'll be surprised at their sleekness, elegance, and durability.

Vanity: High-end vanities, especially custom-made ones, heighten the grandeur of your already luxurious refuge. Take your one-of-a-kind vanities and dress them up with a fancy sink and a counter like the ones mentioned above. It can become a statement piece inside your bathroom while elevating its look at the same time.

Floors: Say goodbye to cold mornings. Warming coils underneath your tile floor provide heat to your frigid feet so that you don't have to wear slippers to the bathroom. Heating technology isn't limited to floors, though. Install radiant heating in your shower or in front of your vanity.

Storage: A mess of beauty products and shaving kits can bring down any aesthetically pleasing atmosphere. Instead, embrace the practicality of pullout organizers. These full-extension shelves streamline any size cabinet, giving you enough space to house your bath bombs and essential oils with room to spare.

Once you've completed your bathroom transformation from an ordinary and modest room to an upscale, hydrotherapeutic environment, treat yourself to a relaxing night at home.