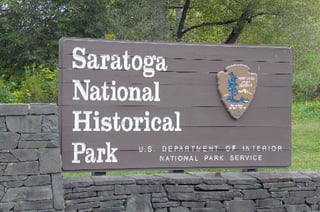 When individuals or families think about destinations that are fundamental to the origins of the United States of America, cities like Boston or Philadelphia usually comes to mind, not Saratoga County in upstate New York. However, the area is rich in historical parks and areas of interest for the fan of American history.
Nothing fits this bill more than Saratoga National Historical Park. The park, about 40 miles north of Albany, and approximately 15 miles southeast of Saratoga Springs, is in Stillwater, New York. Perfect for the whole family, Saratoga National Historical Park contains several historically important locations and structures, including Saratoga Battlefield, Schuyler House, Saratoga Monument, and the Victory Woods.
Saratoga Battlefield
Not only is the Saratoga Battlefield a brilliant example of the beautiful Saratoga County countryside, but it also is the location of the Battle of Saratoga. The Battle is considered the first significant American victory of the American Revolutionary War and led to the recognition of the United States by France in 1777.
Located 8 miles north of Saratoga Battlefield, Schuyler House is a restored country house previously owned by American General and United States Senator Philip Schuyler. The house was occupied and burned down by British Forces during the American Revolution. It was later rebuilt after the conclusion of the conflict.
Near both the Saratoga Battlefield and Schuyler House, stands the Saratoga Monument. Officially within the aptly named village of Victory, NY, the monument commemorates the location where British General Burgoyne surrendered to American General Horatio Gates.
The Victory Wood area of the park first opened in June of 2010. Located on 22 acres near the village of Victory, NY, the area is know for its hiking trials and as the historical location of the final encampment of the British forces, before they surrendered after the battle of Saratoga.
Saratoga National Historical Park and its lovely environs are packed with historically significant locations that not only serve as an important place in the development of the United States, but also are fun for the whole family.