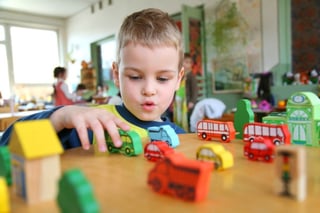 Join your fellow community members on March 12 to celebrate the 6th anniversary of the Children's Museum at Saratoga. Dedicated to inspiring curiosity and sparking imagination in children, the museum is an indispensable part of Saratoga Springs and the neighboring communities. To support their programs and daily operations, the Children's Museum organizes a fundraiser on their anniversary.

Since 1990, the Children's Museum at Saratoga has dedicated itself to providing local communities and beyond with programs and exhibits for children that foster creativity, curiosity, and discovery. Founded by a group of community parents and educators, the non-profit museum has relied on the donations from local community members to add new exhibits and renovations. In fact, their annual birthday bash is their primary fundraising event.

Every year, the museum's birthday bash is inspired by a favorite children's book and this year is no different. Support your local museum as they organize a bash inspired by The Tale of Peter Rabbit, a children's book about a mischievous rabbit. Are you interested in attending? Here's what you can expect at the fundraising event.

Birthday Bash
The birthday bash begins with a cocktail hour followed by a silent auction to benefit the museum. Past auction items included a year's supply of beer, a whitewater rafting experience, and a romantic getaway package. After the silent auction, enjoy an elegantly catered dinner with live music and entertainment. Afterward, the Board of Directors celebrates the co-honorees who donated toward the fundraising goal. Cap off the night of festivities with dancing and more live music.

Community Involvement
The Children's Museum's mission is to provide a fun learning environment for children of the community to develop and learn through play. The museum offers exhibits on science, art, math and even some occupational-themed exhibits. For example, children play firefighter for a day as they slide down the firehouse pole and jump on the fire engine.

And if you can't make it to the museum, the museum can come to you. Their outreach program brings one of their seven educational programs to your home. The programs range from lessons on health and nutrition to different cultures around the world, New York's history, and more.

The Children's Museum plays an influential role in educating the surrounding community about Autism with a monthly program. The program serves as an early intervention for families who deal with children on the Autism spectrum. The free program brings in specialists to educate families. Families also get a chance to connect and support each other. Since the museum relies heavily on donations to continue providing these beneficial programs, your donation is an investment in future generations.

Event Details
When: Saturday, March 12, 2016 from 6:00 pm to 10:30 pm
Where: Saratoga National Golf Club
Cost: $85 individual, $150 couple, $725 table for ten
If you're interested in learning more about the Children's Museum at Saratoga, please email them at info@cmssny.org or contact them at (518) 584-5540.