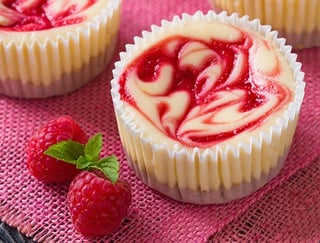 Who doesn't love a little something sweet? Strawberries and cheesecake... Perfection!
Keep true to your New Year's Resolutions by not over-indulging and sticking to these itty-bitty sweet bites.
Raspberry Cheesecake Bites
Makes 24
Ingredients
Crust
1½ c graham cracker crumbs
4 T butter, melted
3 T sugar
¼ t cinnamon
Cheesecake Filling
32 oz. cream cheese blocks, room temp.
1½ c sugar
¼ t salt
1 t vanilla extract
4 eggs, room temp.
Topping
8 oz. raspberry jam
Instructions
Preheat oven to 325 degrees
Line cupcake pan with liners
In a small bowl mix together graham cracker crumbs, butter, sugar and cinnamon
Pour 1 T of mixture into the bottom of each cupcake liner and, using a cup, press it into an even packed layer
Bake for 5 min
Cheesecake filling
In the bowl of an electric mixer whip cream cheese until fluffy
Add in sugar slowly and keep whipping until smooth
Add in eggs, one at a time
Now mix in the salt and vanilla
Pour in 3 T of cream cheese mixture into each cupcake liner
Tap tray on counter to bring the bubbles up to the top and pop them
Place in the oven for 22 minutes
Allow to cool for 5 min then remove them and transfer to a wire rack to cool to room temp
Place 2 teaspoons of raspberry jam in the top where a little dip forms
Move to the fridge to chill for 2-4 hours
If you are still in need of some delicious savory items for your party trays, check out our previous post on the Best Appetizers for the Holiday Season.
Enjoy!
(Recipe adapted from RealHouseMoms.com)