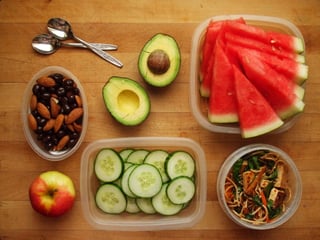 Everyone loves a picnic. Having a picnic basket ready with the essentials makes it easy to go from "let's have a picnic today" to walking out the door in a flash! Here is a list of our picnic basket must-haves:
The first thing you'll need to prepare for any type of picnic is a basket. There are some elaborate versions available in stores or on the internet, but, really, any covered container will do, even a backpack. Just reserve it for picnics and you'll always be ready for fun outdoors. Now, what should you put in it?
A tablecloth is always nice to spread out on the grass or a picnic table. It protects yourself and your food from whatever has been there before. A simple red and white checked number screams 'picnic' and brings an authentic feeling to any get together.
Unbreakable glasses and dishes should be included. There are some good-looking options at discount stores. Pack plenty of plastic or compostable utensils, too, unless you want folks to eat that potato salad with their hands. Napkins complete the picture.
The following are must-haves, based on long experience: a sharp knife for cutting, a couple of larger spoons for serving, a small cutting board, a bottle and wine opener, some paper towels, salt and pepper, one bottle of water, wet-naps for cleanup, one larger bag for trash.
Nice-to-haves: straws, toothpicks, condiment packets (mustard, mayo, ketchup, hot sauce), unbreakable bowls, insect repellant, flashlight, bandaids and other first-aid items, deck of cards, tennis ball, some self-closing plastic bags of various sizes.
If you're traveling with your dog, remember to bring a bowl for water, food, and, perhaps, a few treats and a toy. Packed separately, a large towel for him to lay on is a good idea if you find the ground is dusty or wet.
You're probably thinking by now that all these things don't leave enough room for the food! That's right. Plan on a cooler, or separate insulated bag for the food. It's safer to keep the cold things cold anyway.
Enjoy the outdoors and pat yourself on the back for being prepared for any fun that comes your way!
Image via Garden-of-Vegan.tumblr.com