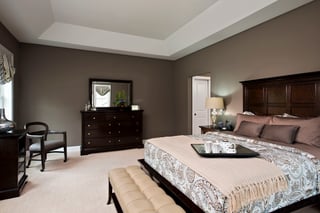 Where do most homeowners spend their time when inside their house? General consensus would probably suggest the kitchen or living room. However, the answer is quite surprising, it's the bedroom. This makes sense, particularly when considering the amount of hours we spend sleeping at night.
Why not try to utilize every inch of the room?
Here are a few tips to consider when maximizing this space.
Use Built-Ins For a Perfect Fit
The dream bedroom requires a lot of furniture; a bed and a couple of dressers take up a lot of space and that's not including any chairs, benches, mirrors, or end tables. A great way to include all of these items and still have a place to store blankets or other necessary items is to invest in 'built-in' furniture. Often homeowners can find bed frames or benches with drawers built in for easy storage. This maximizes space while finding a double use for some items.
Take Advantage of Dead Space
Dead Space isn't as dangerous as it sounds; it has nothing to do with death, rather it is wall space that might normally not be used. For example, the space above a dresser or an end table are areas perfect for a couple of shelves or a wall-hanging bookcase that can creatively display unique family objects or a seasonal flower arrangement.
Transparency Matters
Often homeowners want to expand the feel of the master bathroom without physically expanding it. Installing glass shower doors is a great way to make the bathroom feel larger without the mess of a construction project. The room will feel larger and now brighter without that annoying shower curtain.