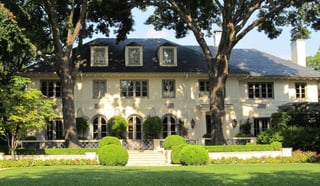 Most home buyers aren't very well-versed with real estate jargon. For example, there's a lot of confusion out there about what differentiates a "luxury home" from a "mansion." While there is no clear-cut distinction between each, there are a few telltale signs that can help you tell them apart.

Size
One of those signs is the size of the property. The average single-family dwelling ranges anywhere from 1,300 to 2,400 square feet. Anything above the 3,000 square foot threshold can be considered a luxury home. A mansion can extend as high as 10,000 square feet and as low as 4,000 square feet. Square footage isn't the only measurement considered. Opulent residences tend to feature vaulted ceilings as opposed to the the run-of-the-mill 8 to 10-foot-ceilings found in most standard, single-family houses.

Amenities and Fixtures
Higher-quality fixtures tend to go hand in hand with more luxurious living quarters. For example, instead of the traditional laminate counter tops found in an average home, a luxury home and mansion will feature granite or marble counter tops. Luxe nickel-plated or brass hardware replaces low-end finishes. Both luxury houses and mansions accentuate ornate fixtures like these, but the latter takes it a step further with more square footage and classy room additions.

Mansions often include a ballroom, a dining hall, tens of bedrooms, live-in quarters for staff (butler, cook, chauffeur, etc.), porte-cocheres, and circular driveways to name a few. It's not surprising at all to find wine cellars, gardens, fountains, conservatories, and multiple sport courts, too. These palatial estates can even have separate additional buildings on the compound meant for extended families.

Other Considerations
Custom home builders generally focus only on building luxury residences. In fact, these builders have also been known to construct entire upscale communities offering different floor plans and gated or restricted access. These modern luxury houses often contain hobby rooms such as a library, theater, and sometimes even nanny quarters, blurring the lines between what one considers a mansion.

Things get interesting when dealing with historic mansions. Although they may not meet the criteria for a modern mansion, they still retain the classification in deference to their historical significance.

Regardless of distinction, what separates these properties is essentially the "feeling" of opulence associated with their luxurious aesthetics. The quality and excellence of craftsmanship on cabinet fixtures and room additions shine even brighter as the square footage increases.