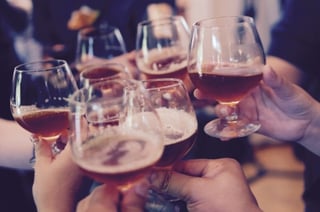 You're getting your address book out to call up friends and family, when you suddenly remember that the last time you hosted a party, the post-cleaning process dampened your spirits. When you host a gathering, there's bound to be a few spills. That shouldn't deter you from bringing loved ones together. Instead, read up on these easy ways to remove common party stains.

Red Wine: Sometimes, a simple glass clink can lead to an unsightly pool of Cabernet on your eggshell-colored carpet or rug. To save the party, find the nearest microfiber or white cloth, club soda and begin blotting the soon-to-be-gone stain. If you've noticed the stain once it's already dry, create a mixture of one tablespoon of dishwashing liquid and white vinegar (each) and a couple cups of warm water. Blot until the stain is gone.

Candle Wax: Dinner parties with old friends can often go long into the night. Nostalgia becomes the theme. The last thing on your mind is that mound of candle wax dripping onto your luxuriously embroidered tablecloth. If you find yourself in this predicament, put the tablecloth in the freezer so it's easier to scrape off the wax with a blunt edge knife. There may be some remaining wax. Iron on the reverse side with a sheet of wax paper on the affected side. The melted wax will transfer completely onto the wax paper.

Chocolate: What's a good party without dessert? As the excitement builds up in anticipation for that chocolate tart on its way out of the kitchen, you see your slice fall off your plate in slow motion. No need to fret. Assemble a mixture of dish washing liquid (1 tbsp.) and a couple cups of cold water. Use this liquid mixture to blot the stain until no there's no more chocolate transfer. Use a fan to completely dry the affected area.

Coffee: Late night coffee marathons keep the festivities going. Long after most everyone has left, coffee tops off an eventful night. When the inevitable coffee spill happens, a concoction of one tablespoon of liquid dish soap and white vinegar (each) and a couple cups of cool water does the trick. Grab a white cloth and blot to remove the spilled coffee.

Gravy: Slippery fingers and an overfilled gravy boat is a recipe for disaster. The next time you see that rich and brown sauce cascading straight onto your high-end textiles, you'll have a plan. To remove spilled gravy, apply a laundry stain remover and let it soak in the washing machine for a couple of hours. Once washed, air dry and you're done.

Cranberry Sauce: Its crimson red hue and sweet scent makes it a holiday party favorite. The favoritism ends when it comes in contact with your bright white tablecloth. To remove this stain, create a solution of mild liquid detergent (1/2 tbsp.), vinegar (1 tbsp.), and a quart of cold water. Let it sit on the stain for about 15 minutes. Wash with cool water afterwards.

We hope these stain removal tips have eased your worries of hosting a party in your home. Even a few minor spills become part of the story of the night.