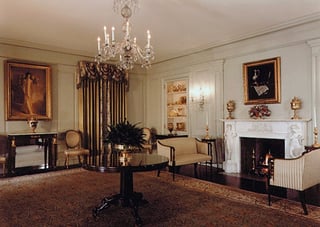 A royal-looking home need not be over 100 acres or have a history of housing monarchs. With a few adjustments and additions, your home can look royal and grand in no time. Check out the following home decor tips to transform your humble abode into a sumptuous and royal palace.

Family Pictures
A royal family is inherently comprised of a strong and powerful group of individuals spanning many decades and even centuries. The pride instilled in the lineage is showcased in long hallways lined with stately portraits of key members of a family. Replicate the same royal family pride by displaying pictures of aunts, uncles, and grandparents throughout the home. Pictures in a baroque-style carved wood frame can go well in a long hallway or staggered on the wall of a flight of stairs.
Flowing Drapes
A royal palace's decor begs for attention. Think of the priceless antiques, sky-high ceilings, and handcrafted furniture all which scream elegance, opulence, and exquisite taste. Incorporate the same attention to detail with elegant and heavy drapes that fall past the floor. For added luxury, choose drapes that feature an intricate embroidery pattern and a matched tieback and valance. Essentially, you want to eschew the minimalistic design style in favor of an eye-catching design, fabric, and style. For more window treatment ideas, check out our "Framing the View" blog post.
Gilded Everything
Besides moats, marble statues, and monolithic chandeliers, a royal palace is often associated with wealth, more specifically, gold. To mimic the same luxurious aesthetic, head on down to your nearest craft store to purchase as much gold leaf paint as you can. Consider applying the paint to the aforementioned picture frames, wall moldings, and other home accents. Use your best judgement to not go overboard with the paint. A little too much runs the risk of looking a bit gaudy.

Red Paint
Red, a traditional color of nobility, is both loud and sophisticated, especially if you choose the right hues. Scarlet, for example, is a bright red with a tinge of orange that works exceptionally well with doors, home accents, and sometimes even sofas. A strong almost purple crimson red makes any wall stand out and works well with any sort of textile from throw blankets to rugs and throw pillows.

While you won't necessarily build a courtyard, grand staircase, or a drawbridge, your home's interior can still retain the essence of a royal estate. It's all about finding the right pieces without going overboard. If interior home decor intimidates you or it's your first time, why not contract a virtual designer to help you create the home of your dreams.