We cannot deny that the holidays are quickly approaching; and with it the large dinners and holiday parties. Traditionally the holiday season is marked with hams, turkey, and comfort food, but for the eater and family looking for a few ways to trim back on the holiday calories, here is a great substitute for a main dish that keeps the calories low, but high in taste.
All of the ingredients for the Lasagna should be available at your local grocery store.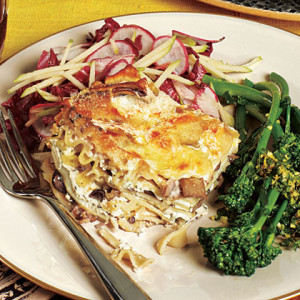 Truffled Wild Mushroom Lasagna:
1 tablespoon olive oil
2 cups thinly sliced leek
8 garlic cloves, thinly sliced
3/8 teaspoon salt, divided
7 cups sliced cremini mushrooms (about 1 1/2 pounds), divided
4 cups sliced shiitake mushroom caps (about 1 pound)
2/3 cup Côtes du Rhône or other fruity red wine
1 tablespoon chopped fresh thyme
1 tablespoon chopped fresh oregano
1 tablespoon chopped fresh sage
3 tablespoons white truffle oil
1 teaspoon black pepper, divided
2 1/2 cups 1% low-fat milk
1 bay leaf
2 tablespoons butter
3 1/2 tablespoons all-purpose flour
1/8 teaspoon ground nutmeg
2 cups fat-free ricotta cheese
1/4 cup chopped fresh flat-leaf parsley
1 tablespoon grated lemon rind
Cooking spray
8 ounces precooked lasagna noodles
1 cup (4 ounces) shredded part-skim mozzarella cheese
1 cup (4 ounces) grated fresh Parmesan cheese
Preparation
Heat olive oil in a large Dutch oven over medium-high heat. Add leek, garlic, and 1/4 teaspoon salt; sauté 2 minutes. Add 4 cups cremini mushrooms and shiitake mushrooms; sauté 10 minutes or until mushrooms release moisture and begin to brown. Stir in wine; cook 3 minutes or until liquid almost evaporates, stirring frequently. Remove from heat; stir in thyme, oregano, sage, truffle oil, and 1/2 teaspoon pepper.
Combine milk and bay leaf in a heavy saucepan; cook over medium-high heat to 180° or until tiny bubbles form around edge (do not boil). Remove from heat; cover and let stand 10 minutes. Strain mixture through a sieve into a bowl; discard bay leaf. Set aside.
Melt butter in saucepan over medium heat. Add remaining 3 cups cremini mushrooms; sauté 4 minutes or until tender. Add flour, stirring with a whisk until blended. Cook 1 minute, stirring constantly; gradually add milk. Bring to a boil; reduce heat, and simmer 8 minutes or until thick. Stir in remaining 1/8 teaspoon salt, 1/4 teaspoon pepper, and nutmeg.
Preheat oven to 350°.
Combine ricotta, parsley, lemon rind, and remaining 1/4 teaspoon black pepper in a bowl. Spread 1/2 cup milk mixture in bottom of an 11 x 7-inch glass or ceramic baking dish coated with cooking spray. Arrange 3 noodles over sauce; top with 2 cups mushroom mixture. Sprinkle with 1/4 cup mozzarella and 1/4 cup Parmesan. Arrange 3 noodles over cheese. Top with 1 cup ricotta mixture. Repeat layers once with 3 noodles, 2 cups mushroom mixture, 1/4 cup mozzarella, 1/4 cup Parmesan, 3 noodles, and 1 cup ricotta (dish will be very full); spread remaining sauce over top. Cover with foil; place baking dish on a baking sheet. Bake at 350° for 30 minutes. Remove from oven; increase oven temperature to 450°. Uncover the lasagna, and sprinkle with remaining 1/2 cup mozzarella and remaining 1/2 cup Parmesan; bake an additional 10 minutes or until golden brown.