Weekend breakfasts are a special time with your children. No one is hurrying off to school or jobs; it's time to reconnect and relax. One special way to enjoy these stress-less mornings is to engage your kids in the ritual of cooking a tasty, hearty breakfast together.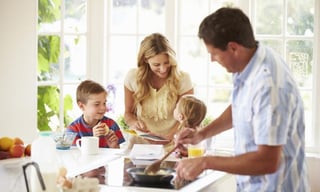 One of our favorites is French toast. It's simple, involves a minimum of cutting, the kids get to break eggs (!), and it tastes wonderful. You don't need an exact recipe either – after you've done it once, experimentation only makes it better.
Here's an easy approach, that can involve kids as young as 2, to make the tastiest French toast ever.
One of the best things about this recipe is that you can use up all your stale bread. If you don't have stale bread, spread fresh bread out on the counter the night before. The drier the bread, the better it will soak in the egg mixture. Any sliced bread will work, the thicker and more dense, the better – use your favorite. Cut whole slices in half so that they're a bit easier for the kids to maneuver in the pan.
The egg mixture is simple. Eggs and a bit of milk, half-and-half or cream. It works with just eggs, too. Every 2 large eggs should be mixed with about ¼ cup cream. Additions to this mixture can include a drop of vanilla, a pinch of cinnamon and/or nutmeg – it depends upon your family's taste. Let the kids break the eggs, add the cream, and mix it up with a whisk or fork. Be sure it is mixed quite well.
Pour the egg mixture into a flat, shallow container that will hold several slices of bread at once. Ask the kids to place the bread into the pan, coating both sides of the bread and then allowing them to soak for a while. Five to 10 minutes should be long enough.
Meanwhile, heat some butter in a large griddle or skillet on medium high heat; do not allow it to brown – adding some oil will help. Watching the kids carefully, let them put the soaked bread into the pan – this can get messy, but kids like messy. After the slices have browned and crisped on one side, the kids should be able to flip them over with a spatula or tongs to brown on the other side. You may need to add more butter to the pan as you go. Mom or Dad can keep the completed slices warm in the oven until all have been cooked.
When all the slices have been soaked and cooked to golden brown, you're ready to eat!
Syrup, a mixture of cinnamon and sugar, applesauce, fresh fruit, sour cream or yogurt, all add to the yumminess of this treat – just pick your favorite(s) and enjoy! Don't eat it all yourself, be sure to let the kids have some, too. ;-)
If you have a kid-friendly breakfast recipe to share, jot it below. We look forward to hearing from you.