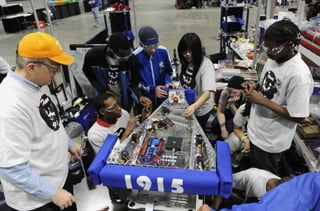 Are you a fan of science, robots, and rivalries? If you are, you'll be delighted to hear that New York's Tech Valley region once again will proudly host the premier FIRST Robotics Competition (FRC) at the state-of-the-art East Campus Athletic Village Arena at Rensselaer Polytechnic Institute. New York's Tech Valley is a site for innovative technology companies making it the perfect place to host this world-renowned engineering challenge. The competition puts teams of high school students and volunteer mentors together to conceptualize and build a robot. FIRST combines the excitement of live sports with the complexities of science and technology. Read on for some background on the program and what you can expect from this year's event.
Background
Seasoned inventor, Dean Kamen, founded the not-for-profit organization FIRST (For Inspiration and Recognition of Science and Technology) in 1989 to inspire kids from K-12 to pursue fields in technology, science, and engineering. Comprised of four programs, FIRST encourages kids of all ages to develop teamwork skills, while having fun with science. With support from over 200 of the Fortune 500 companies and more than $16 million in college scholarships, FIRST provides students with an opportunity to get a taste of real-world business and engineering. One of the best parts of the competition is that participants are eligible to apply for millions of dollars in scholarships from more than 200 colleges and universities.

FIRST Stronghold
Challenges change with every year and this year's challenge places two alliances of three robots together as they work to breach an opponent's fortifications. Students must hone their teamwork skills to weaken the opposition's boulder and capture the tower. During the face-to-face match-ups, robots will score points by working their way around defenses and scoring boulders through the opposition's goals. The final 20 seconds get intense as the robots surround and scale the opposing tower and capture it. Friends, family, and the local community are encouraged to attend and cheer from the stands.

Although the challenges may change, some things remain the same. Before the competition, teams of 10 receive a kit of parts including batteries, motors, construction materials, control system components, and a set of instructions. Each team must work with a volunteer mentor to build, program, and test their creations in a span of just six weeks. Robots must be able to perform certain tasks to trounce the competition. It is set to be a real nail-biter. Are you attending?

Event Details
When: March 17-19, 2016
Cost: Free