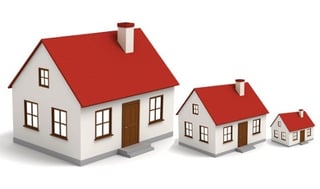 When considering a new home after your children have moved on to college or new jobs, or if you no longer need all the space in your current home, there are a few standout items you'll want to consider.
This blog post is part of "The Ultimate Guide to Downsizing Your Home With Style" blog series.
Chances are you are not as young as you once were, don't need as much room as you have now, and definitely want a low-maintenance but comfortable place to live. Here are some things to think about when choosing a new home.
Your New Location:
With more free time now, you'll want to choose a location that offers excitement and easy options for travel. Look for a spot that's close to an interesting town and has easy access to transportation. Especially important is living near a major airport and train station if you plan to fulfill your travel bucket list.
It's also important to find a social community with activities that match your interests. If you love the outdoors, for example, look for a home near walking and biking trails, parks, or areas with great views. If joining clubs is your thing, you'll need to be close to an active town with lots of choices. If you're into bird watching, a close-by lake is a top must-have. If you're a golfer, well...you get the idea.
Think of the Future:
Now is the time to consider a home with a limited number of stairs; it's easy to find great floor plans that offer comfortable living all on one level. An attached garage is an amenity everyone appreciates on rainy or icy days and the safety factor of a covered walk into the house is a big plus.
As well, if you can limit the amount of outdoor maintenance you need to handle, you'll free up time for more enjoyable activities, like travel and entertaining. Many new developments offer exterior maintenance packages, so you can look out the window on snowy days and see someone else shoveling those walks and clearing your driveway.
Don't Scrimp on Fun:
A new home can offer you some floor plan options you may have been thinking about for a while. Wouldn't it be great to discover a new gourmet kitchen with a great room that has super circulation for parties? Do you want a fireplace to cozy up to on cold winter afternoons? Does a breakfast room that looks out to sunshine and gardens attract you? How about a built-in tech package with wiring for that great sound system you've been wishing for?
Although everyone that goes through downsizing their home pares down their belongings when they move into a new space, you'll still want to make sure you have storage for those memories you just can't part with. Look for easy to live with walk-in closets. You don't want to be climbing ladders to get up to hard-to-manage attic storage.
Many new homes have built-in cabinets, pantries, and shelving to maximize floor space and give you that easy-to-move-in feeling.
We hope this list has been helpful in finding the right home for you. If you'd like to look over some of Malta Development's floor plans at our newest community, Lakeview Landing, you can click here.