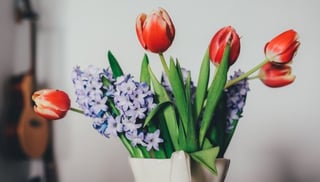 Everyone has different ways to make themselves happy. Some people curl up with a good book. Others spend an hour or two at the stables. But did you know that there are things inside your home that could affect your mood? Scientific data shines some light on how certain home features can make you happy.

Paint it Green or Yellow: Is there a link between colors and emotions? A study The study found that yellow and green hues evoked a strong sense of happiness in the participants. If you're one to shy away from such bold colors, try painting one statement wall first and take it from there.

Smell the Roses: Studies have established that a bouquet of flowers like the ones you get on Valentine's Day, for instance, triggers positive emotions and increases your feelings of life satisfaction. Whether you're giving or receiving, flowers are powerful sources of happiness so display them openly in your home in places such as your dining room, living room or foyer.

Family Photos: We all experience those moments when we feel down, but it doesn't have to be that way. A study from the University of Portsmouth suggests that looking at photos of a positive past event can be a form of reminiscent therapy. That's good enough reason to keep a framed picture of your family or friends on your nightstand or desk to remind you of life's blessings.

Relaxing Candles: No matter who you are, aromatic candles have a distinct way to relax the mind and body. Not until recently have we discovered that certain scents elicit specific feelings. A Chemical Senses study ranked vanilla beans as one of the most uplifting scents while clementine's citrus aroma was a great stress-relieving agent.


Write it Down: Just like looking back at old photos, reminiscing on seemingly mundane experiences boosts your happiness levels. Findings published in Psychological Science state that participants enjoyed re-reading about "ordinary" experiences they had forgotten. It's like an inside joke with a friend or a conversation with a neighbor. Part of that joy lies in underestimating how meaningful every moment in life is. Keep a journal to remind yourself that every moment is priceless.

Pets: Research published in the Journal of Personality and Social Psychology confirmed what we all knew deep down-- pets are important sources of social support and well-being. Having a loyal pet staves off feelings of isolation and improves your self-esteem. If a pet is what you need, visit the Saratoga County Animal Shelter for a complete listing of all of their adoptable dogs and cats.

When it comes to enhancing your home, it's the little things that make the biggest impact. What color, scent, or accessory you choose can influence your mood, so knowing what makes you happy is the first step toward creating a home that makes you feel safe and full of joy.