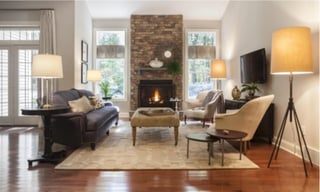 Many homeowners take great pride in their meticulously decorated home. Some household fixtures, however, detract from their methodically designed humble abode. Everything from air vents to loose electronic cords attract attention, but not in a good way. Turn these common household eyesores into sights for sore eyes with these inspired and straightforward DIY ideas that disguise even the most unsightly home features.

1. Garage Door Opener: If you've converted your garage into a playroom for the kids or a home office for dad, you may be wondering how to cover up that garage door control panel attached to the wall. If you are, you can transform some scrap wood, a small art frame, and a stylish doorknob into a clever secret door to keep up with the room's decor.

2. Air Vents: Air vents can turn any whimsical oasis into an industrial-looking living space. To add your personal flair to a seemingly insignificant detail, pick up a radiator screen from your nearest hardware store and make your very own decorative vent cover. Paint it the same color to match your current wall hue.

3. Wall Protrusions: What do you do when you have thermostats, outlets, and light switches on one wall that detract from the overall design style? You camouflage them. By pairing these practical, but unsightly home fixtures with a gallery of framed artwork, these eyesores blend seamlessly into the background yet remain easily accessible.

4. Router: Technology is making internet speed faster every day, but the aesthetics of the equipment leave much to be desired. Instead, try this vintage book cover to hide routers, modems, or cables. This simple disguise keeps your wi-fi signal strong without sacrificing style.

5. Utility Meter: The necessary evil of utility meters doesn't mean your home's exterior design has to suffer for it. Instead, cover it up with a set of shutters. Create a quaint garden corner around the shutters for an extra hint of playfulness.

6. Pantry Shelves: Pantry shelves are often painted a neutral, uninteresting color. Make your shelves pop by adding colorful and complex fabric patterns on top. If anything, it'll contribute to a lively and bold kitchen look.

7. Dog Crates: While you're renovating your dwelling, transform your dog's wire crate into a trendy crate with bumper pads. The custom crate cover keeps your dog's space as sophisticated as your home.

8. Canvas on Hinges: Homes, especially smart homes, are often equipped with control panels. Find some canvas art of your choice, attach hinges, and screw them into the wall. The canvas on hinges hides them while allowing you to easily access them.

You don't have to put up with practical but unattractive home fixtures. Instead, bring out your inventive and resourceful side to creatively cover them up.