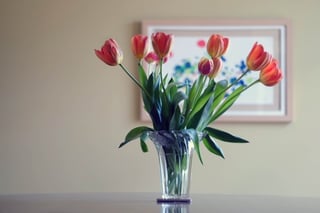 Spring is in the air and the current decor trends reflect just that. Let the season inspire your home design by adding a bit of renewal and life to your home. Small flourishes can make certain areas stand out. One such area that could benefit from spring-inspired decor is your dining room table. Top it off with one of these elegant, easy, and fresh floral centerpieces.

Mix and Match
If spring appeals to your inner eccentric and quirky side, tap into that creative energy. Meticulously arrange a vibrant multicolor floral centerpiece to become your table's focal point. Don't just stick with one flower type. Assemble an eclectic mix of different flower shapes and sizes.

Here's your chance to combine daffodils, water lilies, mimosas, and more. If you've never arranged a centerpiece, here's a helpful hint. Begin by arranging the flowers on the outer rim. Once they're in place, assemble a smaller ring of flowers inside the first ring and continue until the vase is full.
Groups of Three
For those that love a minimalistic look, groupings of three similarly-colored vases and flowers bring a touch of elegance to your table. The trick is to mix brighter hues with more subdued ones. For example, use a vibrant mix of pink begonias, peonies, and garden roses along with delicate white dogwood tips. For a slightly asymmetrical aesthetic, cut the stems at varying lengths, letting some flowers drape over the base while others just barely edge past the rim.

White Elegance
White flowers are always in season. The best part about them is that they are appealing on their own. For example, a grouping of white phlox blooms is the perfect way to celebrate spring. Pair the flower arrangement with a classy and high-end vase for an upscale chic look. If you're going for a more subtle and delicate feel, fill a vase purely with baby's breath. Usually meant to fill space, these dainty flowers have power in numbers.

Glass Bowls
Vases aren't the only home for a striking floral arrangement. Large glass bowls provide a striking contrast to a wood dining table. Fill a few large glass bowls halfway with water. Place your favorite colorful flower blooms inside. Remember to cut off the stems completely and just drop the flower heads inside. A couple of heads per bowl should do just fine.

Tranquil Yellow
Yellow floral arrangements elicit feelings of positivity and happiness. Paired with a rustic wood table, yellow centerpieces are bold decorating choices. If you're looking for a yellow centerpiece idea, try tulips. Gather a group of ten yellow tulips and toss in a few daffodils for good measure. The yellow pairs perfectly with a blue-colored vase, offering exceptional color contrast.

We hope these ideas have inspired you to bring in fresh and natural decor into your home. These centerpieces are just one of an endless amount of options. Since flower blooms range in size and color, there are multiple ways to combine them. Now, go out there and flex your creative muscle.