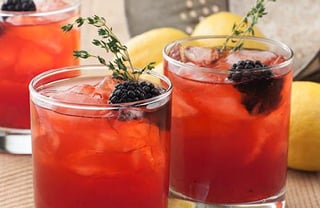 Summer weather is hot and humid and there's no doubt that there's nothing better than an ice-cold glass of lemonade.
Now, lemonade can take on many flavors and colors— strawberry, lavender, or ginger to name a few. But one of our personal favorites is blackberry basil lemonade. This sweet and tart combination offers the perfect balance of crispness and refreshment. Not to mention it's great for enjoying on the back porch all summer long!

Ingredients
5 lemons
10 cups cold water
1 cup blackberries
1 cup white sugar
10 large basil leaves
*Extra berries for garnish or ice cubes
Instructions
Add water to a pitcher.
Wash, halve & juice the lemons. Make sure all of the seeds are removed & add the lemon juice & pulp to the pitcher.
Add blackberries & basil to a bowl & muddle them until they are crushed. Add to the pitcher.
Pour in sugar. If you like your lemonade sweet, you are going to want more. I like my drinks tart so I opted for not a lot of sugar.
Mix well & serve over ice.
Garnish with basil leaves, blackberries & lemons.
This recipe can also be served as a mixed drink if you'd like! Add a shot of vodka to each glass for a delicious summer cocktail.
We hope you enjoy this recipe! Let us know your thoughts below.
Recipe adapted from HorsesAndHeels.com
Image via StopAndShop.com