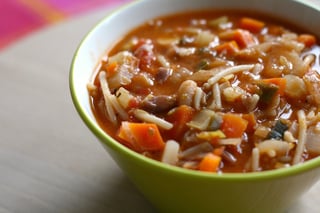 When it's chilly outside, there's nothing like coming home to a steaming bowl of beef barley soup. Here's a recipe that satisfies and is nutritious, too. It combines the depth of beef with the complexity of vegetables and spices in its flavors. Hope you enjoy this one!
Serves 6-8. Takes 2 hours and 45 minutes to cook.
Ingredients:
2 pounds of beef ribs
4 large beef bones, with marrow
½ cup of pearl barley (any barley will do)
a pinch of salt
1 large onion, minced
4 carrots, diced
1 white potato, peeled and diced
1-1/2 pounds of peas (fresh or frozen)
¼ pound of string beans (fresh or frozen)
¼ chopped fresh dill (optional)
½ cup minced fresh parsley
2-3 cloves garlic, minced
salt and pepper to taste
Method:
Using a large stockpot, add the beef ribs, marrow bones, and barley. Add four quarts of cold water, a pinch of salt, and bring to a boil. Reduce heat a simmer for one hour, skimming occasionally. (If you like, you can brown the ribs and bones before adding the water. This will add even more depth to the final flavor.)
Add the onion, carrots and potato and simmer for another hour.
Remove the bones from the soup, scrape the meat and marrow from them and return this to the soup. Discard the bones. Add in the peas and beans and simmer for another 30 minutes.
Add the dill, parsley, and garlic. Season with salt and pepper. Simmer for 15 minutes.
Spoon into bowls and serve with crusty bread and sweet butter.
This is a basic recipe and you can make it your own by using your favorite vegetables and meats. Let us know what you think, below.