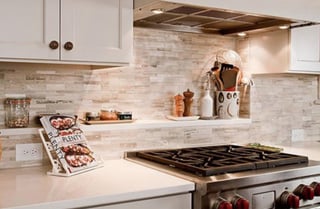 Are you in need of more kitchen counter space but don't want to do any major renovations? Frustration can kick in when you're short on time and struggling to make room for kitchen prep. Luckily, there are creative ways to maximize the space you have.
1. Stovetop Space: Imagine having to prep for a big Sunday night dinner. Your entire family is coming over and your kitchen has never looked more compact. To reclaim your kitchen counter space, buy or create a custom-sized cutting board that fits over an unused stovetop. You'll be able to eke out a few extra square feet; just enough to get the job done.

2. Levels: Stop fumbling around for the salt and pepper shakers hidden somewhere in the back of your cabinets. Instead, add another level of shelves on your backsplash to keep your most frequently-used items easily accessible.

3. Multifunctional: Cut a small hole through your pull-out cutting board and install a pull-out trash can below it. After you're done slicing up your vegetables, you can simply slide the roughage down the hatch, saving you time and space.

4. Fold-Down Shelf: A fold-down shelf enables you to tuck it away when not in use. It becomes fully functional when you need a cookbook holder or somewhere to place your prepping materials.

5. Remove Utensil Jars: Since most meal prep never involves your entire utensil collection, why have it all out? It only takes up valuable counter real estate. Instead, hang your most used utensils on a kitchen wall or behind your cabinet doors.

6. Island Extension: An island extension that perfectly matches your existing island space adds much more space for when you need it most. One that has wheels will make it easier to store and bring out.

7. Backsplash Baskets: While you may hate the idea of covering up your intricate tile backsplash, hanging baskets on it offers more premium storage space for kitchen essentials and even a small plant.

8. Drying Rack: If your kitchen has empty space between cabinets, try installing a simple drying rack between them. It works especially well if placed over a sink.

9. Multipurpose Sink: For homeowners with wide sinks, place a cutting board over one half of the sink to give you more surface area. The trick is to only cover half of the sink so that the other half can be used by someone who need water.

No one has ever complained of having too much kitchen counter space. That's why these kitchen counter hacks can be the difference between a cramped prep area and an expansive cooking space.