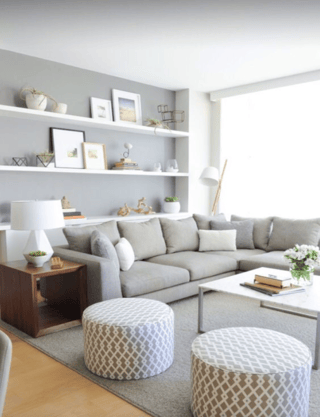 A family room is the perfect gathering space to create memories or just relax and unwind with your family. With a few small adjustments to your family room, you can transform it to keep up with your growing family, from the moment your baby learns to crawl to the moment you send them off to college.

Baby
Play Mat: As your tiny tot grows, so does his or her curiosity. Give your baby the freedom to roam in safety with a soft and plush play mat in the family room. The traditional interlocking foam play mat tiles give your rugrat a comfortable space to explore and play with toys. There's plenty of color choices so you can choose a play mat that doesn't clash with your decor.

Toy Tote: What would a play mat be without a set of baby toys and stuffed animals for your child to play with? A lidless tote covers your storage needs when the fun and games are over. Going to the park? Take the portable tote with you. It's multifunctional and when your baby outgrows it, you can use it to store your own knick-knacks.

Toddler
Play Table: Toddlers aren't quite tall enough to comfortably enjoy playing on an adult-sized coffee table, but a smaller play table will do just the trick. Your toddler can sit on the family room floor and use the table for art projects, for example. Worried about crayon marks on the table's surface? A large paper roll can save your surface from from water rings and paint splatter.

Elementary Schooler
Reading Nook: When your child gets his or her first taste of academia, he or she will want to explore different children's titles. Provide them with a relaxing and peaceful nook in the corner of your family room where they can grab a book from their personal bookshelf and sit on a cozy and snug upholstered chair.

Storage: A stylish ottoman serves as a foot rest, additional seat, and extra storage space when you lift the top. Store any board games, crafts, or movies that you use for family nights, for example.
Tween
Floor Cushions: Add a splash of color, pattern, and comfort to your family room with a set of floor cushions. Tuck them away when not in use and break them out during your next tea party, family movie night, or get-together with friends.

Teen
Accessory Holder: Need a place to store your blue-ray player remote, wireless headphones, tablet, and all your other gadgets? A sleek accessory tray/holder on a coffee table keeps your devices all in one space so you and your teenager never lose them.

Empty Nest
Bar Cart: Once your kids are out of the house, it can be your time to play in the family room. A small bar cart can house elegant glassware for when you have neighbors or friends over. Cheers!

Create a gathering space that everyone in your family will enjoy. Incorporate different patterns, colors, and designs to not only provide extra comfort, but also a touch of your individual style.