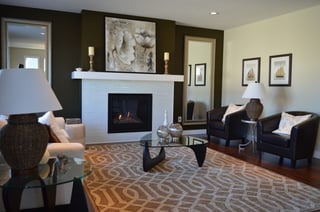 Not everyone is born with impeccable taste and an eye for interior design. While the familiarity and command of home decor is an acquired skill, budding designers can learn to skip past the awkward beginner stage with a few simple pointers. By steering clear of these common design mistakes, first-time designers can create a polished and refined look without much experience.
1. You don't have to match everything: Walk into your local furniture store and you'll find yourself in a sea of living room sets as far as the eye can see. Complete furniture sets make creating a functional living space that much easier, but severely limit your creativity and design potential. Instead of opting for the generic pre-selected furniture set, pair different furniture styles to create an even more compelling room.

2. Avoid sticking to one style or color: One of the golden rules of interior design is never getting hung up on just one color (or even shades of the same color). Let's assume you own a midnight blue sofa paired with a white area rug. You may be tempted to buy pillows or home accents with the same color scheme for convenience or lack of imagination, but don't. If needed, use a color wheel to create a high contrast theme in your room. Ideally, you'd want to mix styles and colors for a more intriguing look.

3. Don't undershoot: Contrary to popular belief, smaller furniture will not make your room appear larger than it seems. Instead, it will appear oddly furnished. For example, one design scenario involves purchasing a smaller sofa which leaves a couple extra feet at each end of a wall. The second scenario involves going with a sofa that takes up an entire wall. Two extra feet to work with is not as striking or useful as you think. Instead, go with the bigger piece to make your room appear like it has more square footage.

4. Don't forget an area rug: Area rugs are multifunctional. They can be subtle design cues that indicate where one area ends and another begins. For example, if your living and dining room area flow into each other, try using an area rug to create a distinction between the two spaces. Especially if the rug has pleasant patterns and colors, it can define a space.

5. Quit buying furniture from the same store: While purchasing a bed frame, nightstand, computer desk, and vanity all from the same store seems convenient, it feels highly uninspired. Break free from the shackles of practicality. Mix and match furniture and home accents from a variety of sources.

Even the most seasoned interior designers started off with a lot of trial and error. The key is learning from the inevitable design faux pas. Hopefully these tips can help you avoid common design mistakes so that your home looks straight out of a magazine.