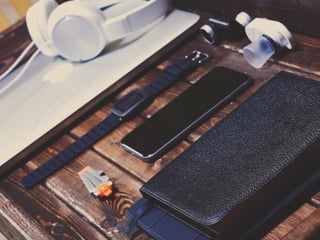 In this day and age, we need to protect not only our physical property, but also our digital data. Modern technology is doing a great job of keeping up with the pace of ever-growing security threats. For physical security threats, certain technology has made it so that you can be at home even when you're not at home. Other gadgets keep you on high-alert on your valuables' whereabouts and whether someone tampered with them. These security tools will protect your possessions and give you peace of mind.

Ezviz Mini IQ Camera


Ezviz just recently introduced their brand new wireless camera, the Mini IQ, with security features to protect your home. The Mini IQ's trim, elegant design is only the cherry on top. Wit3h a 1080p HD resolution and a 30-foot night vision range, you'll always have a crystal clear view of your interior landscape, enabling you to scan your environment day or night. The improved model also features two-way audio so you can hold a conversation with a person on the front end of the camera. But what happens when the power goes out? Your Mini IQ goes into a power-saving mode during power outages. It turns off its camera to conserve battery and turns it back on within 600 milliseconds as soon as it detects motion.

Sensor-1
Protect your laptop, phone, bicycle, or bag with a portable security system. Sensor-1 is a movement-detecting security device that fits in the palm of your hand with plenty of room to spare. Attach it to any belonging with a 3M Command Strip and rest easy knowing the sensor is protecting your property. Worried your laptop will get stolen at your favorite coffee shop? Always forget your purse when you walk out of a restaurant? The Sensor-1 makes these problems obsolete. The sensor sends you an alert to your phone as soon as it detects if someone moved your item (you can adjust its sensitivity). With its "left behind" feature, it alerts you if you go out of range from your valued possession.

Master Lock Bluetooth Smart Padlock (Outdoor)
Padlocks are a great security resource up until you lose the keys for them. The solution is the Master Lock Bluetooth Smart Padlock. With this padlock, you don't need a key or even a combination code. All you need to unlock it is your phone. Missing your phone? No problem. Enter a directional code (as a backup key) on your lock keypad for instant access. You can log in to the website or app to check out how many times and when your padlock was opened.

No matter where you go, these highly-advanced security gadgets give you peace of mind which is priceless. Don't leave your home or your irreplaceable possessions without them.