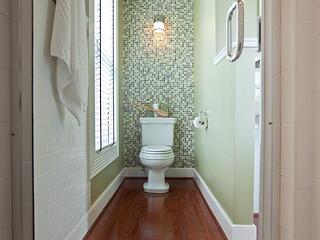 When you think of installing an accent wall, the bathroom is likely the last place you'd consider. That's because accent walls are meant to be eye catchers in big rooms. The close quarters of a bathroom don't typically make the cut.
However, we're keen to argue that a bathroom is the perfect place for an accent wall. As one of the most used rooms in a home, a bathroom is a place that should have just as much decorative integrity as a kitchen, living room, or bedroom.
We've uncovered a few different and inexpensive DIYs to help you with creating a beautiful bathroom accent wall. Don't worry, you'll thank us later!
1. The wallpaper accent wall
Wallpaper has gotten the short end of the stick in recent decades, but the truth is that a wallpaper accent wall is anything but tacky. Sunset Magazine has a really great tutorial for wallpapering your own bathroom accent wall. Be sure to check it out!
2. The stenciled accent wall
Another option for those who aren't a big fan of wallpapering is the stenciled bathroom accent wall. Turn your walls into something out of a model home with your own homemade stencils. See this tutorial (and some amazing photos) on stenciling your own accent wall over at A Beautiful Mess.
3. The contact paper accent wall
A little less commitment oriented than the last two options, the idea of making wallpaper out of contact paper is genius! You can stencil your own designs directly onto the contact paper, and adhere it without issue. This tutorial by A Subtle Revelry is a great example of what you can do with a little contact paper and paint.
How do you feel about accent walls in the bathroom? Do you think it's too much or just the right touch? Share your opinions, we'd love to know your thoughts!

Photo via Homeini.com