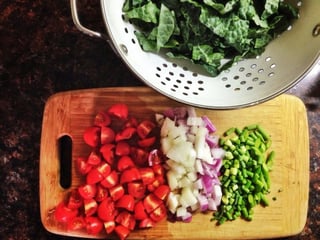 We all wish we had more hours in the day. There just isn't enough time to pay the bills, exercise, put the kids to sleep, catch up on reading, and sit down to think. That's why finding and implementing life hacks in our day-to-day is so important. The following kitchen hacks will streamline your morning routine and set the tone for the rest of your day.

1. Dinner Prep: With a family's hectic and often erratic schedules, it's better to create a division of labor in the kitchen. For example, have one person do the dinner meal prep at night and include cooking instructions. Another person can cook the meal when he or she gets home from work. Dinner meal prepping streamlines this often time-consuming activity so that your day runs smoothly.

2. Defrost: Imagine coming home tired after work. All you want to do is cook your favorite meal, chicken fajitas, but you forgot to take the chicken out of the freezer. You don't want to wait for hours for the chicken to defrost so you resort to a microwavable dinner or takeout. To avoid this issue, set an alarm, reminder, or post it to move tomorrow's protein to the refrigerator the night before. It'll avoid this common frustration and save you time.

3. Overnight Breakfast: Cooking can be fun but also time consuming, especially when you're scrambling to leave your house in the morning. Want a solution to your hectic mornings? Prepare your breakfast the night before. Overnight oats with some peanut butter, cinnamon, chia seeds, and a few drops of honey is an easy and nutritious breakfast that you can leave prepared overnight.

4. Mix Dry Ingredients: Some breakfast meals, however, aren't as easy to prepare. For example, pancakes require a mix of wet and dry ingredients. In order to streamline your prepping, premix the dry ingredients the night before and store them in a ziplock bag. In the morning, just mix in the all components. It'll taste much better than a boxed pancake mix.

5. Dish Duty: The invention of the dishwasher saved people a lot of time. While we wait for technology to create a robot to organize our dishes, make it habit to dry and put away dishes after dinner. That way, you can easily find all your utensils and bowls in the morning.

6. Set the Table: Mornings are better when we sit down with the family and enjoy a meal together. To keep this tradition alive, set the table for breakfast before you go to bed. Put out all the cups, plates, vitamins, etc. In the morning, all you have to do is pour the orange juice and serve the meal, saving you precious time.

7. Collect School Supplies: If you're the proud parent of elementary-school children, you know how busy mornings can get. To curb the hustle and bustle, assemble your child's school supplies, homework and backpack for the following day. Having a dedicated backpack spot makes them easy to find.

8. Dedicated Lunch Shelf: While not everything can be ready to go before you leave to work, you can place your lunch items in a dedicated shelf in your refrigerator. All you have to do is grab them and put them in your lunch bag when you're ready to leave.

9. Help From the Kids: Teach your kids to help out around the house by letting them help you out with your meal prepping. It not only instills a sense of preparation at a young age, but also makes your job of being a parent that much easier.

10. Water Prep: Make a pitcher of purified water with your choice of sliced cucumber, mint, or fruit so you have a tasty and hydrating beverage as soon as you wake up.

Implement these kitchen hacks into your daily routine for a more effective morning. You'll wonder how you went so long without them.