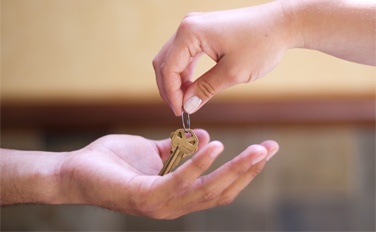 A NEW HOME VS. A PRE-OWNED HOME...
Before you make that decision, consider some benefits to a brand-new home, both personal and financial. The choice you make now could have a tremendous impact on your future.
ONCE CONSIDERED A LUXURY RESERVED FOR ONLY THE VERY RICH, new construction is now available in every price range and style. In the past decade there has been unprecedented growth in new home buying. There are tremendous benefits to owning a new home, both personal and financial. Here are just a few to consider:
Energy Efficiency:

The old adage, They just don't build 'em like they used to, is fortunately, an accurate statement. A new home built with today's stricter building codes, modern technology and superior building materials will far outperform a home built even a few years ago and that will save you money. Building codes now mandate higher energy efficient standards and items such as insulation, energy efficient heating and cooling systems and low E windows are all money savers. In addition, a Malta Development home meets or exceeds the Energy Star standard which sets forth a requirement that components like windows, doors, and appliances must adhere to in order to achieve an Energy Star rating and is certified to meet the rigorous National Green Building Standard.

Maintenance:

No matter how well a pre-owned home has been cared for, there is always something to fix or replace. Daily wear and tear, quality of care, and simply age, has an impact on the life expectancy of any manufactured product. With a new home, there are no looming fears of "How long before this needs to be replaced?" Because we use the latest products and materials that technology offers, your new home will be virtually maintenance-free for years and you will be free to enjoy your precious leisure time, doing all the things that you really enjoy.

Value:

Value is not only what you pay for a house but how much it will cost you to live there each month. Monthly utility bills are lower in a new, more energy efficient home and what may have seemed like a bargain on an older home that just needs a little TLC will be quickly offset by what it costs to update that home. Unexpected repairs can add up fast and you can find yourself taking on more debt than just a mortgage.

Warranty:

Every Malta Development home comes with something that no pre-owned home can offer, a Builder's Warranty. We provide our customers with one of the best warranties in the home building industry, a reflection of the confidence we have in the quality of our homes. Our 10 year major structural warranty not only exceeds most other builders warranty period, but has the unusual benefit of being transferable to a subsequent owner.

Innovative Design:

You don't have to tour many older homes to see cut up floor plans, wasted space and inadequate storage. At Malta Development, we recognize the importance of staying one step ahead of consumer trends with innovative designs and floor plans. In an effort to keep pace with the ever-changing needs of the modern home buyer, we offer thoughtfully planned homes for consumers of all age groups. The result is a more efficient footprint with no wasted space. From the growing family in need of more room and dedicated organizational areas, to the older buyer looking to downsize and age in place, our new homes offer a full array of modern design elements and amenities.

State-of-the-Art Technology:

Who could have predicted how far technology has come? Most existing homes are not equipped to take full advantage of the latest in security, entertainment and communication technologies as they didn't even exist a few short years ago. In some cases these technologies are not cost effective to install in an older home and in some cases, it is simply not possible.

Personal Choices:

One of the biggest drawbacks of purchasing an existing home is that it is most likely not going to be exactly what you want. A new home is like a blank canvas. You choose the floor plan that fits your needs. Your choice of optional features and such decorator items as siding color, flooring, appliances and cabinetry are a reflection of your own personal taste, not a previous owner's. You even have the opportunity to select the perfect lot on which to build your dream home.

APPRECIATION:

This is really what it's all about, the American dream. Unlike most purchased goods, we expect our homes to actually increase in value over time. The time to consider a home's potential resale value is the day you buy it. Technological advances and modern design elements will greatly increase the value of your home, particularly if you strategically purchase a home in a growing area like Saratoga County. Also, a newer home generally, by definition, will have a higher appraised value than an older home.

Ready for more information?

Talk to Beth Smith Realty at (518) 928-3057 for a personal consultation on the buying process.